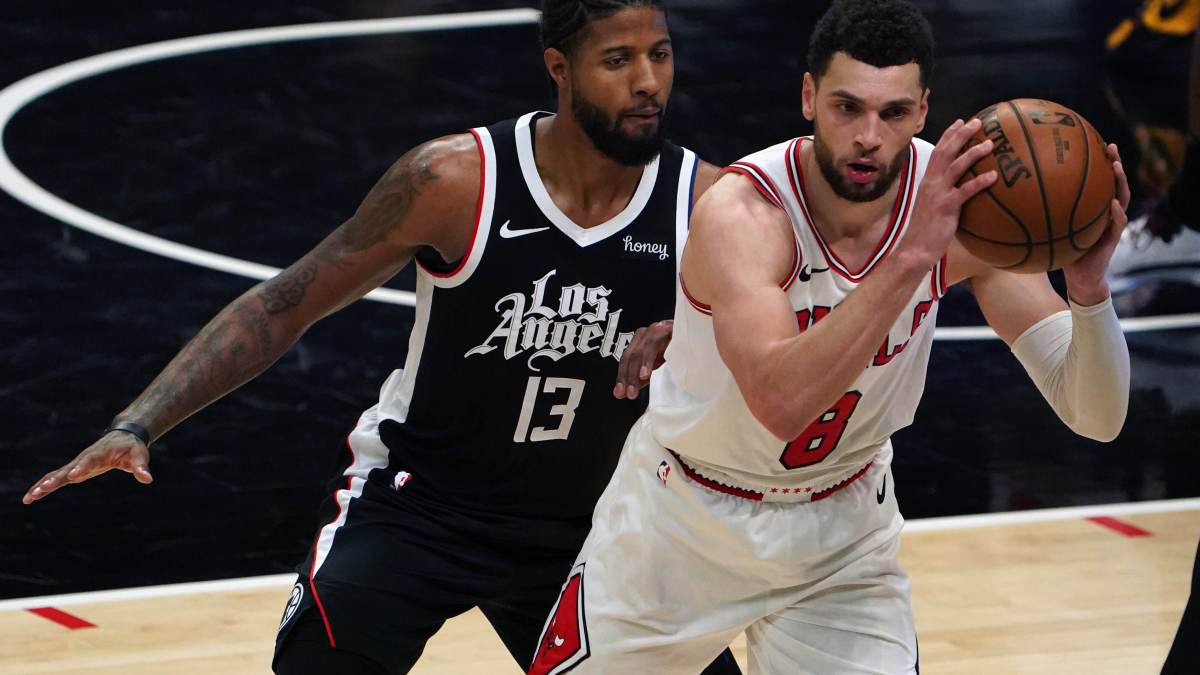 Bulls cap 1-3 West Coast trip with close loss to Clippers originally appeared on NBC Sports Chicago
The Bulls capped their four-game West Coast road trip with a hard-fought loss, this one 130-127 to the Los Angeles Clippers. They end the swing 1-3, and head back to Chicago 4-7 on the season.
Here's what stood out:
Patrick Williams: Really good
Patrick Williams embraced another tough defensive assignment in this one, guarding Kawhi Leonard early and often, and checking Paul George and Lou Williams on a few possessions too.
The 19-year-old continued to impress in just his 11th NBA game (and start). Leonard got his, but Williams' steadiness and compete level again belied his age. The highlight of the night was him sparking one of the most fun sequences in recent memory for the Bulls with a deflection and steal on Leonard in the second quarter:
He ripped him again in the third, and forced a few misses guarding him down the stretch, as he did LeBron James on Friday. Williams ended the afternoon with two steals. Leonard… Well, we'll get to Leonard shortly.
What's more, Williams enjoyed the best offensive performance of his young career. In the first half, he splashed three catch-and-shoot 3s on four attempts (even through only two quarters, both career highs). He finished 3-for-5 from deep, moving his season-long mark to 11-for-24 on a limited sample. Three splashed pull-up mid-range jumpers — almost his signature shot at this point — contributed to a career-high 17 points on 6-for-9 shooting.
And, for the second game in a row, Williams eclipsed 30 minutes played with Otto Porter Jr. out with a lower back strain (Garrett Temple started in his place, scoring 18 with three 3s) and closed out the contest. In fact, Williams' 36 minutes played marked another career high.
If you're not already, get excited about him.
LaVine and Leonard traded haymakers
Zach LaVine entered Friday's matchup with the Lakers shooting just 29.7 percent from 3, well below his career mark of 37.3 percent. You knew that would tick up.
Against the Lakers, he canned four of seven triples. Against the Clippers, he finished 10-for-16 from deep, including 5-for-8 in a third quarter that saw him trade haymakers with Leonard.
In that period, in which the Clippers outscored the Bulls 42-35 to pull even entering the fourth, Leonard (21 points) and LaVine (15) combined for 36 points and 10 3s.
LaVine put up another 14 in the fourth, including an unconscionable stepback over Marcus Morris with 17.3 seconds left that improbably pulled the Bulls within 126-125 and breathed life into a contest that looked finished. An airballed jumper that would have tied the game — and completed a seven-point comeback in the final 49 seconds — followed.
All in all, his night ended with 45 points, his third consecutive 30-point outing and first 40-pointer of the season. He averaged 33.5 points in the four-game West Coast swing.
Two times in Bulls franchise history has a player canned 10 or more 3s in a game. Both occasions were authored by LaVine.
Turnovers mar offensive progress
Again, the Bulls offense showed signs of promise in this one. As a team, the visitors leveraged some ludicrous shotmaking and solid ball movement (30 assists) to score 127 points on 61 percent shooting.
Leading the way in the dime department was Coby White, with a career high 13. Another step in his development as a point guard, though he also committed five turnovers. On an off shooting night, he affected the game there and by nabbing eight rebounds.
The inescapable blemish: 22 team turnovers. And the dagger was a Lou Williams cookie-grab from White that turned into a fastbreak layup, and a 124-119 Clippers lead with a minute-and-a-half remaining that put them out of arm's reach for good.
Ball security continues to riddle the Bulls, and mar their progress. The growth from having the 29th-rated offense in basketball last season is notable. They're left wanting for execution in big moments.
What could have been
Another day, another competitive loss for the Bulls. Moral victories don't mean much at this level, but after watching the four games of this West Coast swing, they clearly outperformed their 1-3 record (which felt a reasonable prediction coming in) against top competition.
Multiple core players, too, found their footing during the trip. Williams' career night, and embracing of all-time defensive assignments, stands out. So, too, does Wendell Carter Jr. exhibiting some offensive assertiveness, facilitating chops and defensive progress (he contributed in a big way to the Clippers 12-for-22 restricted area shooting, even without a block). Coby White and Zach LaVine, of course, caught fire. And this is with four player still gone to COVID-19 protocols.
The wins aren't piling up yet. But, through 11 games, this Bulls team is giving reason to believe they at some point can.