December 16, 2020
Chad Holloway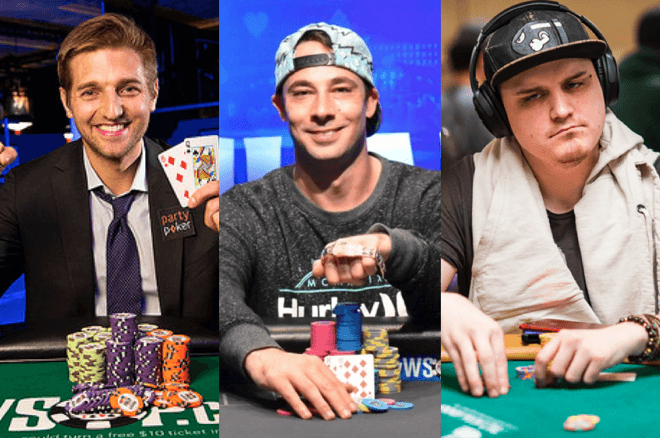 While all eyes were on the World Series of Poker (WSOP) $10,000 Main Event on WSOP.com this past weekend, the site also concluded its Super Circuit Series, which guaranteed over $1 million in 18 ring events over 18 days (November 27-December 14).
All told, the series catered to 10,051 entrants and awarded $3,587,153 in prize money over its 18 gold ring events.
The series crowned several high-profile winners including WPT commentator Tony "Panoramic" Dunst, who topped a 509-entry field to win Event #12: $100,000 GTD NLH Big $500 for $44,165.21 and his first gold ring. The piece of jewelry compliments the online bracelet Dunst won over the summer when he took down WSOP.com Event #21: $777 NLH 6-Handed for $168,342. It marked the second bracelet of his career.
Speaking of two-time bracelet winners, Ryan "GoFeltaFish" Eriquezzo, who has won the Global Casino Championship twice, also captured a ring during the series. His victory came after he navigated a 262-entry field to win the $1,000 buy-in Event #5: $100,000 High Roller for $50,992.79 and the fifth gold ring of his career.
Alex "rip_neiko" Rocha was another winner after besting a 415-player field to win Event #11: $50,000 NLHE Freezeout for $23,690.27 and his third gold ring, and first since 2016.
The series culminated with the $525 buy-in, $200K GTD Main Event, a tournament that drew 578 players who rebought 353 times. The 931-entry field more than doubled the guarantee by creating a $465,500 prize pool, and coming out on top was Tyler "muchultra" Cornell, who won it for $70,243.95 and his first ring.
While the WSOP Main Event was busy establishing its final table of nine, the Circuit wrapped with the $1,000 buy-in Event #18: $100,000 NLH Grand Finale High Roller, which drew 378 runners and offered up a $360,990 prize pool. Eli "Sketchem" Mirlis prevailed to win the tournament for $69,310.08 and his first gold ring.
WSOP Circuit Super Series Winners
| | | | | | | | | | | | | |
| --- | --- | --- | --- | --- | --- | --- | --- | --- | --- | --- | --- | --- |
| *Date | Tournament | Buy-in | Players | Rebuys | Total Entries | Prize Pool | Winner | Prize* | | | | |
| Friday, November 27 | Event #1: $50,000 NLH Turbo | $250 | 290 | 137 | 427 | $100,345 | Ziv "karish33" Oren | $18,644.10 | | | | |
| Saturday, November 28 | Event #2: $50,000 NLH | $320 | 279 | 156 | 435 | $130,500 | Steve "gborooo" Gross | $24,246.90 | | | | |
| Sunday, November 29 | Event #3: $75,000 Monster Stack | $215 | 600 | 213 | 813 | $162,600 | "vincentlai" | $24,536.34 | | | | |
| Monday, November 30 | Event #4: $50,000 NLH Deep Turbo | $215 | 346 | 131 | 477 | $95,400 | James "PRPirate420" Vales | $16,313.40 | | | | |
| Tuesday, December 1 | Event #5: $100,000 High Roller | $1,000 | 164 | 98 | 262 | $250,210 | Ryan "GoFeltaFish" Eriquezzo | $50,992.79 | | | | |
| Wednesday, December 2 | Event #6: $75,000 NLH | $215 | 395 | 231 | 626 | $125,200 | "ace4412" | $21,409.20 | | | | |
| Thursday, December 3 | Event #7: $75,000 NLH | $320 | 351 | 167 | 518 | $155,400 | "cupsaw" | $26,573.40 | | | | |
| Friday, December 4 | Event #8: $50,000 PLO 6-Max | $215 | 193 | 113 | 306 | $61,200 | "Lilmiracle" | $12,178.80 | | | | |
| Saturday, December 5 | Event #9: $100,000 NLH Double Stack | $320 | 415 | 169 | 584 | $175,200 | Jeff "PlusEv905" Schwartz | $27,926.88 | | | | |
| Sunday, December 6 | Event #10: $150,000 GTD Monster Stack | $525 | 412 | 173 | 585 | $292,500 | Mark "bansman" Bansemer | $46,624.50 | | | | |
| Monday, December 7 | Event #11: $50,000 NLHE Freezeout | $250 | 415 | 0 | 415 | $96,695 | Alex "rip_neiko" Rocha | $23,690.27 | | | | |
| Tuesday, December 8 | Event #12: $100,000 GTD NLH Big $500 | $500 | 295 | 214 | 509 | $237,703 | Tony "Panoramic" Dunst | $44,165.21 | | | | |
| Wednesday, December 9 | Event #13: $75,000 NLH | $215 | 471 | 234 | 705 | $141,000 | Alexandre "Apalexpex" Moreira | $22,475.40 | | | | |
| Thursday, December 10 | Event #14: $75,000 NLH 6-Max | $320 | 352 | 221 | 573 | $171,900 | "AvdSmoresCPA" | $29,394.90 | | | | |
| Friday, December 11 | Event #15: $50,000 NLH Knockout | $300 | 455 | 0 | 455 | $128,310 | "Bet_theRiver" | $21,188.45 | | | | |
| Saturday, December 12 | Event #16: $100,000 NLH Double Stack | $320 | 592 | 274 | 866 | $259,800 | Nicholas "mrfinalt" Kiley | $39,203.82 | | | | |
| Sunday, December 13 | $100K Players Appreciation | $100 | 878 | 577 | 1455 | $133,860 | Alan "idiotg" Losoff | $24,496.38 | | | | |
| Sunday, December 13 | Event #17: $200,000 NLH Main Event | $525 | 578 | 353 | 931 | $465,500 | Tyler "muchultra" Cornell | $70,243.95 | | | | |
| Sunday, December 13 | $100K GTD Sunday NLH | $320 | 343 | 168 | 511 | $153,300 | "Mr.Roark" | $39,091.50 | | | | |
| Sunday, December 13 | $75K GTD Sunday High Roller | $1,000 | 118 | 68 | 186 | $176,700 | Alexander "jinyang" Butcher | $38,255.55 | | | | |
| Monday, December 14 | Event #18: $100,000 NLH Grand Finale High Roller | $1,000 | 249 | 129 | 378 | $360,990 | Eli "Sketchem" Mirlis | $69,310.08 | | | | |