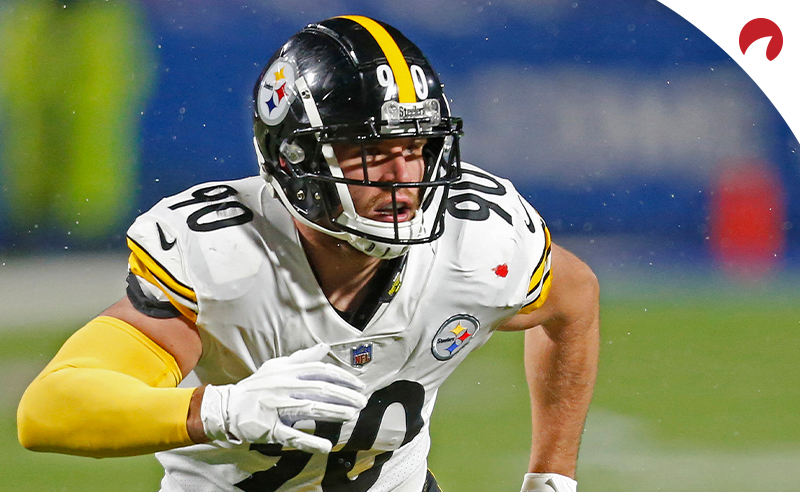 With one week remaining in the 2020 NFL season, Los Angeles Rams defensive tackle Aaron Donald is no longer the favorite to win NFL Defensive Player of the Year. He's been surpassed in DPOY odds by a star Pittsburgh pass-rusher.
Steelers linebacker TJ Watt continues to be a disruptive force in every game he plays and the best football betting sites have him as a -200 favorite to win his first DPOY award. Watt opened at +1300 odds to win this accolade while Donald (+230) opened as the +700 favorite.
Three players from the AFC North join Watt on the oddsboard with two of them being his teammates: Cameron Heyward at +5000 and Minkah Fitzpatrick at +6500. Cleveland Browns defensive end Myles Garrett is the other at +2000 in NFL Defensive Player of the Year odds.
If you're a new bettor and you've never wagered on NFL Futures before, you're in luck because Odds Shark has a handy guide on how to bet on the NFL that will get you up to speed.
If you prefer offense over defense, you can also read up on which player is the favorite to win the NFL MVP Award in 2020.
Who is the Favorite to Win NFL Defensive Player of the Year?
2020 NFL Defensive Player of the Year Award Odds

| Player | Current Odds | Opening Odds |
| --- | --- | --- |
| TJ Watt | -200 | +1300 |
| Aaron Donald | +230 | +700 |
| Xavien Howard | +700 | N/A |
| Myles Garrett | +2000 | +1300 |
| Cameron Heyward | +5000 | N/A |
| Jalen Ramsey | +5000 | +4000 |
| Minkah Fitzpatrick | +6500 | +4000 |
Odds as of December 30 at Bovada
Why Watt is the NFL DPOY Odds Fave
TJ Watt has had an outstanding season in the black and yellow and could share the company of some legendary Pittsburgh Steelers players if he wins NFL Defensive Player of the Year. Watt would join a list of greats like Joe Greene, Jack Lambert, Rod Woodson, James Harrison and Troy Polamalu, the last Steelers defender to win this award back in 2010.
Based on defensive stats, Watt doesn't have many peers. He leads the NFL in sacks (15) and tackles for a loss (26) and has two forced fumbles and an interception. He's been the driving force behind a Steelers defense that leads the league in total sacks and has allowed only 11 rushing touchdowns in 16 games (tied for third).
The only reason why betting on Watt could be tricky is the fact that the Steelers don't have much to play for in Week 17 and will likely rest the majority of their starters. If Watt plays minimal snaps, that could open the door for a player like Aaron Donald to swoop in and wreck the Cardinals with a playoff spot likely on the line in the NFC.
Donald Is A Wrecking Ball
Through 16 weeks of the 2020 NFL season, it's safe to say that Aaron Donald is just as impactful as he's ever been. He trails only Watt in sacks, as a defensive tackle, and continues to be at the top of the list in the NFL for quarterback pressures and knockdowns.
Another reason Donald may have the advantage to steal this award back is the secondary behind him. Having a safety net like Jalen Ramsey (+5000) to cover up mistakes if Donald can't get to the quarterback is a huge advantage. Ramsey's ability to cover receivers also gives Donald more time to get to the QB, which in turn leads to more sacks.
Donald may not win the 2020 NFL Defensive Player of the Year award but if there is any player to bet on to have a big Week 17 and smash an offense, Donald is easily the best choice.
---
Understanding NFL Defensive Player of the Year Odds
When you check out your football sportsbook of choice, you'll see defensive player odds that look something like this:
Aaron Donald +700
Nick Bosa +850
Khalil Mack +1100
TJ Watt +12300
Chandler Jones +2000
To bet on these odds, you would be making a futures bet – more on that in a bit. In this case, there is no clear favorite like there would be on a moneyline or spread bet. When you don't see odds with a minus sign (-) beside them, then the player with the lowest odds is the fave. The rest are considered underdogs.
If you think Aaron Donald is the defensive player to beat, and you bet $100 on him, you'd get a payout of $800 – you get your $100 back along with your winnings of $700.
Our Odds Calculator will show you how much you'd win based on the odds and amount bet.
What is a Prop Bet?
A prop is a bet on the occurrence or non-occurrence of certain outcomes that may not necessarily upset the outcome of an NFL game. In this case, it's the Defensive Player of the Year, an award given out after the regular season.
You can make a bet like this as soon as the odds are announced. Oddsmakers will move the lines as players pad their stats, succumb to injury or their production decreases. If you see odds you like, jump on them like a loose ball after a fumble, otherwise the action could move so much that you'll barely make a profit or maybe even not make one at all.