Coming off a huge Saturday night program where he picked off 10 winners a few cold exactors and tri's Shannon "Sugar" Doye is back with his Sunday picks from Northfield Park.
With Western Fair going dark – we're back with picks for Northfield Park – my fave 'south of the border' half-miler!
All selections have been made prior to any reported scratches on the program.
HPIbet, the leading 'go to' destination for betting on horse racing. We put you at the forefront of the action with access to over 450 racetracks displaying the best in Thoroughbred and Standardbred racing from all over the world – North America, Europe, South Africa, Dubai, Japan, and Australia. Connect to HPIbet from anywhere– at home, work, or any hotspot in your city – and conveniently place bets, review handicapping statistics, and watch races on your Smartphone, Tablet or PC. Accessible 24/7 on a reliable platform that ensures privacy and safeguards your information, you get peace of mind, the necessary tools to make winning bets and the thrill of horse racing any where, any time with HPIbet.
Online horse betting has never been easier. Be sure to register today for all of your online race book and online horse betting needs.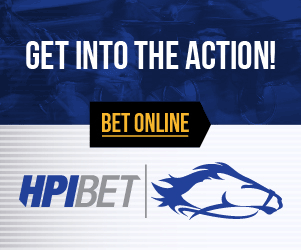 Sunday Jan 10th,2021 All selections have been posted prior to any reported scratches on the race program
Sweet Pick… Race 6 – 9 TREMENDOUS PLAY @ 3/1… Very sharp since joining this barn two back – he gets a huge shot here, to make it two in a row, as the ML fave has drawn the outside post.
R1 9548
R2 3456
R3 7964
R4 4172
R5 3451
R6 9468
R7 9432
R8 4853
R9 9342
R1 02731
R11 9264
R12 5378
R13 31495
R14 8563
R15 2574