January 09, 2021
Mo Nuwwarah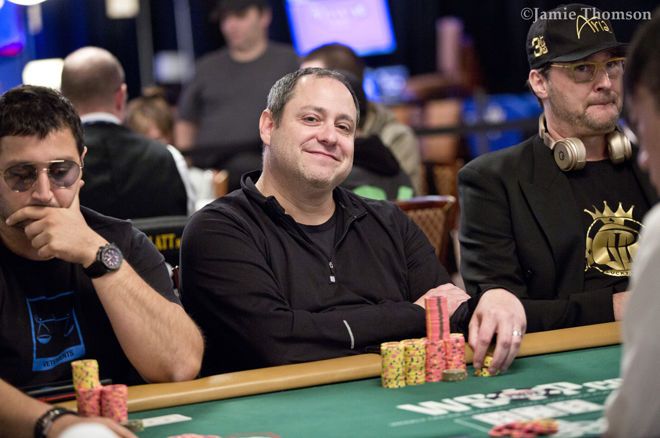 David "ODB" Baker and Mark Gregorich had to pay the bills somehow.
So, with live poker mostly still on ice in the U.S., the two poker players put their heads together and picked some winners in the NFL. So many winners, in fact, that they piled up high six figures in winnings across a pair of handicapping contests hosted by prominent Las Vegas casinos.
They won the Westgate Las Vegas SuperContest for $435,623 and finished second in Circa Sports Million for another $200,000. Additionally, they tallied another $150,000 in winnings from quarterly prize pools for a total of $785,623 in prize money.
"Mark and I are so absolutely thrilled by winning SuperContest," said Baker in a recent appearance on the Gridiron Gamble Podcast. "It's a dream come true. We enter these things never expecting to win, and we won."
Check Out Oddschecker U.S. today!
How They Did It
Longtime fans of the NFL, Baker and Gregorich entered with both contests under the apt name "ODBMG." Each contest calls for making five against-the-spread selections per week.
They got off to a hot start thanks to an early hunch that the market would fail to adjust to COVID-19. They felt the lack of crowd noise in empty stadiums would shift an inordinate advantage to teams with good quarterbacks, who could now more easily make presnap adjustments to exploit opposing defenses without worrying about miscommunications ruining plays.
"When the good quarterbacks can look at the defense and see what they're doing, they don't have to worry about not being able to communicate to the tackles and the receivers and the runnings backs," Baker explained on the podcast. "Points were cheap, especially with good QBs on the road. Some of these lines hadn't adjusted and you had good QBs on the road laying four, five, sometimes two points before they started bumping these lines up to seven. We really capitalized on that."
Baker said they also identified some teams they felt were clearly undervalued and overvalued by the market. They respected the Colts, while they looked for spots to fade the Jets and the Eagles. That worked like a charm as the Colts covered in three of their first four while the Eagles and Jets started a combined 1-11 against the spread.
Most weeks, the two poker players identified two or three games they both loved, and they'd go from there on their final few picks depending on line moves and other information they could gather leading up to the games.
"We luckily agreed on a lot of the same things," Baker said.
That agreement and that process got them off to a fiery heater of a start. They went went 18-2 in the SuperContest over the first four weeks, winning the quarterly prize of $100K easily. They also snagged a fat check from Circa for another $50K after opening 17-3.
Shout out to ODBMG who tied for 2nd in the #CircaSportsMillion First Quarter and stopped by @GoldenGateVegas yester… https://t.co/nJqImP6yor

— Circa Sports (@CircaSports)
A Sweaty Finish
While Gregorich and Baker didn't quite keep up at that pace, they continued to post solid results as the season went along. In fact, they held the lead in the SuperContest from Week 3 onward and remained among the top entries the entire season in the Circa Sports Million.
Heading into the final week, the two clung to a lead of half a point at WestGate, out of 1,077 entries. In the 3,148-entry Circa Sports Million, they were also up a half point. Considering first paid $1 million and second "just" $300K in that one, they knew they were in for a mighty sweat.
As had been their custom, Gregorich and Baker drew up their own separate selections before putting their heads together, in an effort to "come in completely unbiased." Two sides they both loved were Washington and Baltimore — both went on both contest cards. They also liked Carolina and Green Bay and rolled with those two pretty comfortably on the Circa card.
It was the fifth pick that caused some debate. Both initially agreed on Buffalo as small favorites against Miami, but as Sunday neared, uncertainty around the Bills' level of motivation began to shape the market. The Bills were locked into a second or third seed, and odds were good they'd get the second seed regardless of their results — only the Steelers could catch them and they were large underdogs after announcing early they'd be resting key players. Miami, meanwhile, likely needed a win to secure a playoff berth.
"We had that sinking feeling in our stomach."
Money began coming in on Miami, shifting the line. They'd eventually close as decent-sized favorites of -3 1/2, and ODBMG shied away, pivoting instead to the Seattle Seahawks.
As it happened, the Bills came out like gangbusters and routed the Dolphins so thoroughly the backups got the final few scores.
The Seahawks, meanwhile, found themselves mired in a close, low-scoring contest with San Francisco. As -6 favorites, they looked unlikely to cover, spending most of the second half trailing until a go-ahead touchdown put them up 19-16 with less than five minutes remaining. Then, San Francisco turned it over deep in their own territory and the Seahawks quickly scored again.
Suddenly up 10 and needing a cover because the second-place team had already surged ahead with a 4-1 finish, ODBMG had a shot at the million if the Hawks could hold.
Unfortunately, the 49ers began driving the length of the field in the dying minutes. With seconds remaining, they scored a touchdown to cover.
"We had that sinking feeling in our stomach, and sure enough, it didn't work out," Baker said. "But, it was a hell of a run."
When the dust settled after the final snap of the regular season, Baker and Gregorich had secured a fairly comfortable win in the SuperContest, picking at an outstanding win rate of 67.5%. They tied for second in the Circa Sports Million, a half point away from a million, splitting the second and third payouts with another entry for $200K apiece.
PAY DAY #

— SuperBook Sports (@SuperBookSports)
"Just a Couple of Idiots"
A pair of players with a combined $7.9 million in poker tournament cashes according to The Hendon Mob, the two are used to massive gambling swings. However, Baker said the football contests took things to a new level for him.
"It was definitely more intense," he said. "When I'm playing poker, I try to have fun at the table but when you're in a serious event and you're super deep, you're fully concentrating and trying not to show emotion.
"Just like the longest, drawn out, flop-turn-river you can ever have in your life."
"In sports, you're just trusting that this idiot's not gonna miss and extra point or the coach isn't gonna put in the prevent defense with a minute and a half left. It's all these things beyond your control. This thing was week after week after week, the intensity. Just like the longest, drawn out, flop-turn-river you can ever have in your life."
While thrilled and proud of the victory, Baker was realistic about his outlook as a handicapper. He said knowing he's pretty much flipping coins added to the intensity, because he doesn't expect to ever be in that position again.
Contrast with busting even a big poker tournament late, when Baker knows he can likely get another shot some day.
"Just a couple of idiots drinking wine and talking about football," he said. "That's ultimately what we are."