November was another solid month for the Indiana sports betting market. November marks the third consecutive month Indiana set a new record for sports betting wagers, surpassing $250 million for the first time. It was also the third straight month where the state's legal sportsbooks set a new revenue record, as total sports betting revenue reached $25.3 million.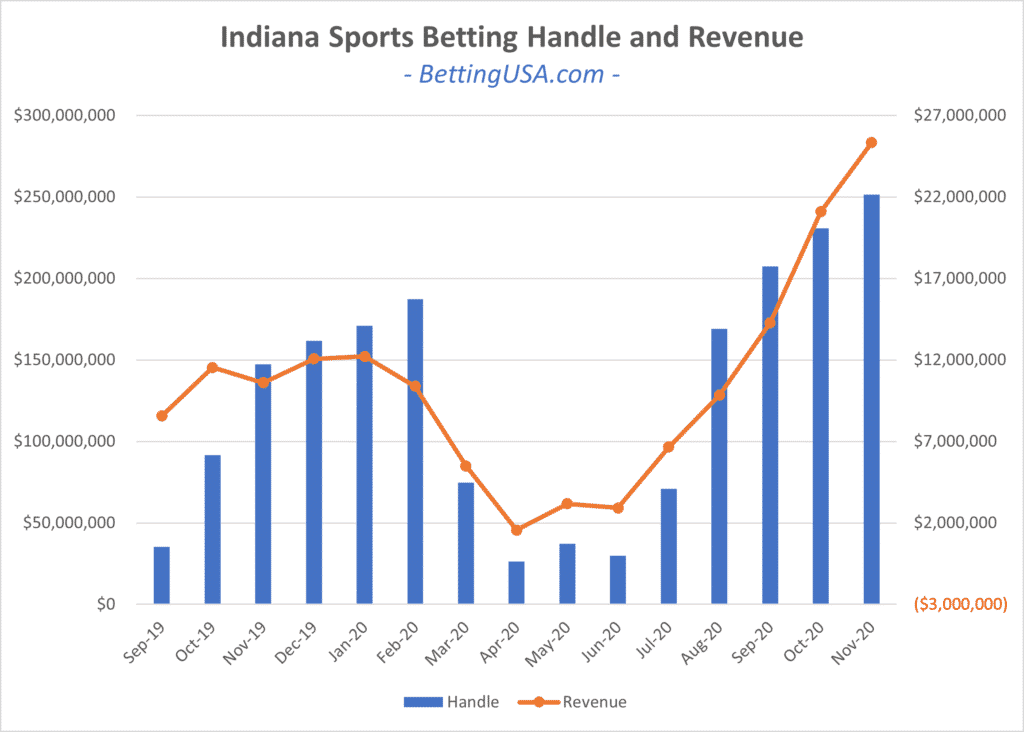 That resulted in $2.4 million for the state in the form of sports betting tax revenue.
Breakdown by Operator
According to the Indiana Gaming Commission's latest revenue reports, the market leaders are familiar names in the US sports betting industry, DraftKings, FanDuel, BetMGM, BetRivers, and PointsBet comprising the Top 5 operators.
Here's a handle breakdown by casino.
Ameristar Casino
DraftKings: $95,195,220
theScore Bet: $2,175,744
Retail: $6,316,860
Total handle: $103,687,824
Belterra Casino
BetMGM: $25,326,955
Retail: $868,781
Total handle: $26,195,736
Harrah's Hoosier Park
Retail: $1,353,782
WC Downtown Indianapolis: $1,978,584
WC New Haven: $1,116,958
Total handle: $4,449,323
Blue Chip Casino
FanDuel: $64,191,496
Retail: $1,762,403
Total handle: $65,953,899
Horseshoe Hammond
Caesars: $564,046
Unibet: $1,815,176
Retail: $4,901,914
Total handle: $7,281,136
Caesars Southern Indiana
Retail: $1,934,544
Total Handle: $1,934,544
French Lick Resort
BetRivers: $10,319,202
Retail: $626,317
Total handle: $10,945,519
Hollywood Lawrenceburg
PointsBet: $9,909,485
Retail: $11,600,037
Total handle: $21,509,522
Rising Star Casino
BetAmerica: $144,130
Retail: $148,362
Total handle: $292,493
Tropicana Evansville
William Hill: $4,046,457
Retail: $1,483,954
Total handle: $5,530,411
Indiana Grand
Retail: $1,345,610
WC Clarksville: $2,277,977
Total handle: $3,623,587
Majestic Star and Majestic Star II have yet to launch a sports betting product.
Mobile Registration in Illinois Has an Impact on Indiana
The addition of mobile registration in Illinois was supposed to have an immediate impact on its neighbor's sports betting industry. Since the return of sports in the summer, Indiana's sports betting handle returned to its typical growth pattern, as the previous chart indicates.
That said, a closer look at the data – eliminating the COVID-19 shutdown months of March through July -points to Illinois having a significant impact on Indiana's sports betting industry.
The following chart comparing February and August handle shows Indiana and Rhode Island were the only two states with unrestricted online sports betting that experienced a decrease in sports betting handle. Illinois Gov. J.B. Pritzker first lifted the in-person registration requirement in June, pointing to mobile registration in Illinois having a material effect on the Indiana market.
Yes, Indiana's sports betting industry is growing, but it's starting from a lower point post-COVID, and that seems to stem from the addition of Illinois to the list of mobile sports betting states.
One other interesting element is the popularity of parlay betting in the state. According to the IGC report, parlay betting accounted for $66 million of the $250 million wagered. That number helps explain the gaudy 10% hold rate the state posted in November.